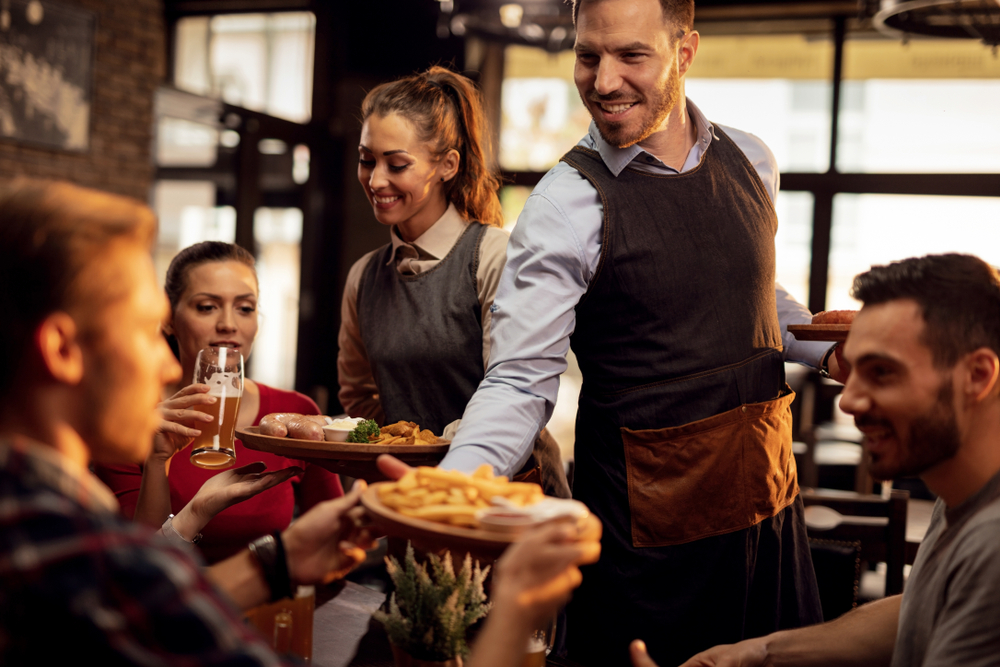 Restaurant managers, chefs, and owners are constantly dreaming up new ways to get more customers into their restaurants. They know that in order for a business to succeed they need repeat customers, but getting those first-time customers through the door can be difficult. Restaurant Marketing is different than many other forms of marketing because it takes place in real life, rather than over the Internet or on TV.
Restaurant owners may hire professional help with marketing or use social media campaigns to attract potential customers online, but there are also things they can do themselves without having extensive knowledge of advertising or graphic design skills. Restaurant managers may buy small ads in local newspapers or coupons for free desserts if you recommend them to friends. Some restaurants provide cards with the bill stating you will receive your next meal free if you return to the restaurant.
Restaurant marketing is really about meeting potential customers where they are to advertise your business. Restaurants may also provide take-out meals that can be picked up at the end of the night or have their menu available online so customers can order food for delivery. Restaurant managers should take advantage of any chance they have to bring more people into their doors because it's only a matter of time before word spreads through town about delicious food and an excellent dining experience, which will generate repeat customers who spend money on meals at any time of day or night.
Restaurant owners often look for ways to attract new customers, but creating a great first impression requires positive public relations efforts as well as targeted advertising strategies. Restaurant marketing plans typically involve a wide range of promotional tactics, including coupons, direct mail, and email campaigns. Restaurant owners may also sponsor community events or provide free meals to local organizations as a way to generate goodwill in the neighborhood.
Restaurants may partner with other food-related businesses, such as grocery stores or caterers, to help increase their brand awareness. Although attracting new customers is important for restaurant marketing efforts, restaurateurs need to focus on retaining existing patrons as well. Restaurant managers can keep their current clientele happy by providing free meals or personalized gifts on special occasions such as birthdays and anniversaries. In addition to building customer loyalty through service initiatives, restaurants can use social media platforms – such as Facebook and Twitter – to ease communication with current patrons.
Restaurant owners can also build relationships with their clientele by hosting social events, which will create an opportunity to strengthen the bonds between the restaurant and its patrons. You'll need to continually monitor trends in order to assess how these issues impact customer behavior. For example, if gasoline prices reach a certain threshold, consumers may be more likely to eat at home instead of dining out. Restaurant managers should stay abreast of economic news so they can anticipate changes in consumer behavior that could affect their business operations.
Restaurant marketing experts suggest that restaurateurs develop effective restaurant marketing plans based on detailed customer profiles that identify target audiences as well as preferences for specific types of food and atmosphere. Restaurants need to choose promotional tactics that are appropriate for their particular market and pricing structure. Restaurant managers should conduct extensive restaurant research and analyze trends in order to gain a clear picture of what their customers want and how to best reach them with effective marketing strategies.
There are many things that go into the success of any business, but none is more evident than the choices made by owners when it comes to marketing strategies. Restaurants need to decide where they will advertise, such as local newspapers or community events, and which form of advertisement will work best for their business, be it coupons or free desserts. Marketing is essentially about building relationships between businesses and their customers through promotions and incentives so they come back again and again. Restaurant owners don't need years of experience in advertising and branding to get people through the doors. Restaurant owners will find that a good marketing strategy can be fun, affordable, and easy to keep track of if they choose wisely.
Since restaurants often have very little overhead compared to other commercial enterprises, they are able to get away with somewhat lower prices than say, department stores. Restaurant marketing efforts must be designed to generate revenue while building customer loyalty. Restaurant managers can create a loyal clientele by offering special deals and promotions that encourage customers to return frequently for dining experiences. Restaurant owners need to implement advertising campaigns that target specific groups of people within their designated market segment.
Restaurants that offer innovative dishes at reasonable prices will attract more customers than restaurants whose menus are filled with items priced well above what most patrons expect to pay for dinner. Restaurant marketing is about staying ahead of the competition in terms of food price, quality, portion size, and display while still remaining affordable enough to attract new customers. Restaurant marketing efforts are often split between providing information about the business to potential customers, and promotion.
Restaurant marketing strategies are typically based on trial and error, with proprietors testing different approaches until they find one that works for them. Restaurant owners should always keep in mind that no two restaurants and no two bars will be successful by employing exactly the same marketing strategy, as there is no combination of words or images that will appeal to every customer across any given demographic. We recommend small businesses start advertising as soon as possible, but it's important to understand not everyone who sees your advertisement will be looking for your specific item. Restaurant marketing strategies are not always focused on bringing in new customers but rather on maintaining relationships with the current clientele by offering special offers, discounts, and loyalty programs. Restaurant owners who are struggling to get through a slow month can also take advantage of marketing tactics that will build their brand's reputation online. Restaurant marketing efforts must be tailored to individual businesses since what works for one restaurant may not work for another.